iconBox Complete Edition Launch & Sale
Posted on: 02nd of July 2012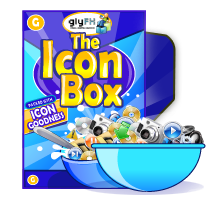 Extended for 1 day due to technical issues.
glyFX presents the mammoth iconBox Complete Edition; a majestic, awesome and packed full of goodness icon package, featuring all 39 iconBOX releases from over the past 7 years!
Each release contains a tasty mix of random icons that were created for other projects but not used. So we swept the floor of our studio and collected these gems and bundled them into 1 huge Complete Edition just for you! They're sure to come in handy and as they are all custom designed, you won't find these babies anywhere else. And best of all you'll save a heap on the price, at just $99 (normally $149) for a limited time. Enjoy!