glyFX Guerilla Gorilla Sale!
Posted on: 29th of June 2012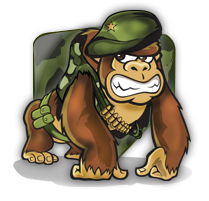 It's the end of the financial year here in Australia, so we thought we would throw a special Guerilla Gorilla sale. Over the next 10 days we will have a great bargain for you each day. So please stop in and check out the great bargains.
First special off the rank is our popular x21 Icon Pack of XP style icons. This includes all 21 stock icon packs we have for XP, with over 1000 unique icons and many alternate states and sizes. Normally $599 AUD, for today it is just $149 AUD. Grab it now!
We'll also have some free preview icons for our upcoming Aero Imaging Icon Set available for download next week, so keep an eye out.
The glyFX Team