Aero X13 Pack Slashed - 1 Day Only!
Posted on: 04th of July 2012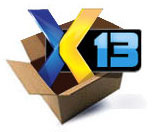 On Day #4 of our Guerilla Sale, we're offering our latest AERO X13 PACK, jammed with 13 of our most popular Windows Aero style Icon Stock Sets - slashed to $199 AUD (normally $532)!
In it you get over a whopping 800 glyphs in 131 alternate versions with an additional 2,135 character and symbol icons! That means all of our latest Aero Icons in one convenient package! This is a must for any serious developer! Remember, this fantastic sale is FOR TODAY ONLY, so tweet it, post it and take advantage of this monster offer its sizzling hot!